If you are not intending to engage with a property agent, choosing to sell your property may be a bit of a hassle. Not only do you have to settle most of the paperwork yourself, being able to market your property and look for a buyer may not be an easy task for many of us. However, if you are still reading this article, you are most likely looking to sell your property by yourself. And as surprising as it may be, doing the job yourself may not actually be as difficult as many of us make it out to be. This article will give you a rundown of what you have to do to properly sell your property, condensed in a simple 10-step guide.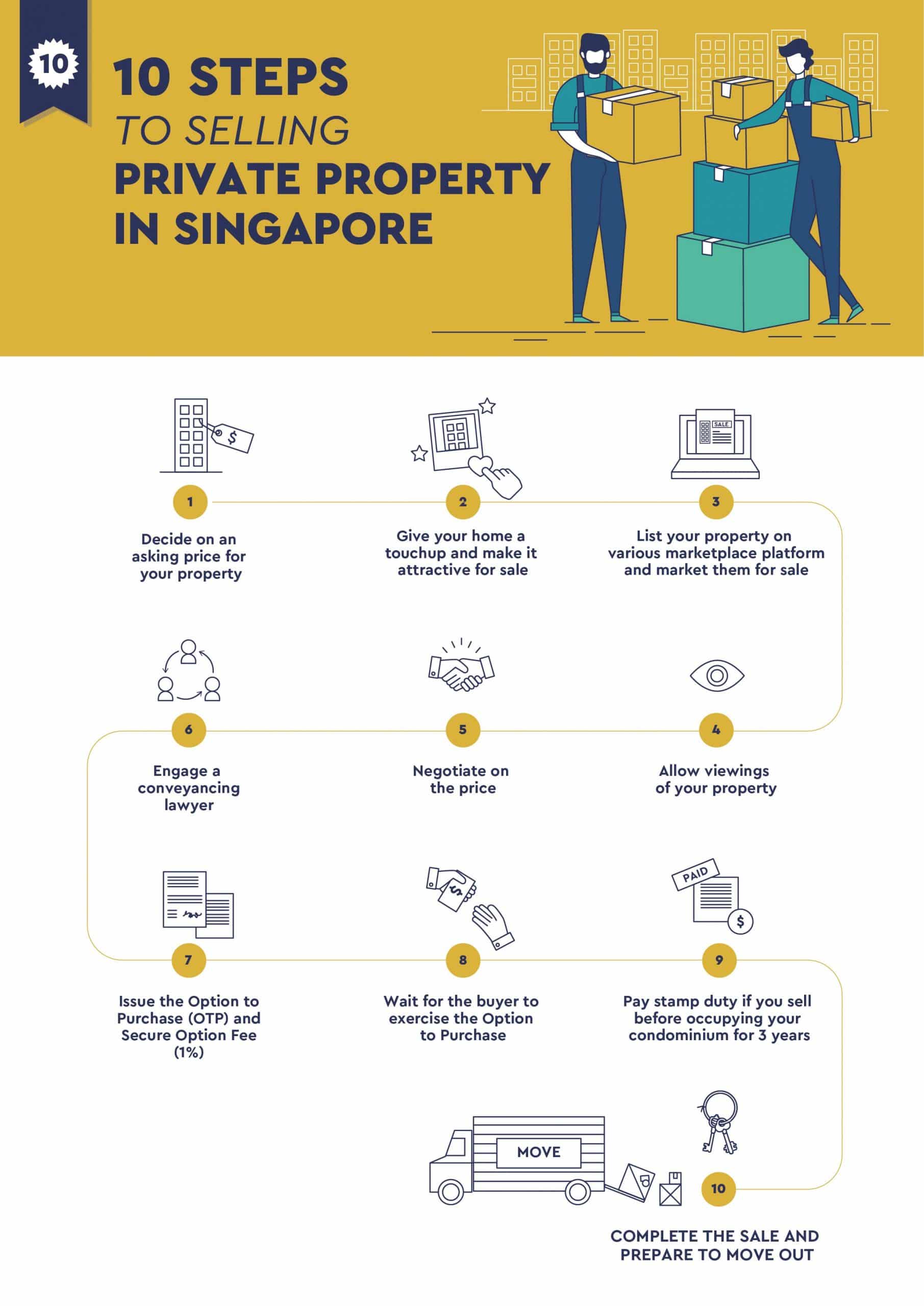 Decide on an asking price for your property
Depending on the type of property you are selling, you have to decide on a range of values that you will be willing to accept. To get a rough gauge of how much you should be pricing your property, you may go online and look at listings of properties that are similar to yours. In doing so, you ensure that your price is well within that of the market price. While it is important that your price is similar to that of the ones in the market, ensure that you do sell yourself short as the price should minimally match the quality of the property. Other factors you should consider include how long has it been since your property was built, the condition within the home, will it include furnishings or not and also the location of your property. Once you have taken these into consideration, you should roughly get a gauge of how much you are willing to sell your property.
Selling Your Private Property in Singapore?
Get your Free Property Analysis Report and Seller packages.
Selling Your Property in Singapore?
WhatsApp your Enquiry Directly. Professional Property Seller Services with Low Commission rates.
Give your home a touchup and make it attractive for sale
In order to ensure that your home will be appealing to potential buyers, the physical features of your home is the first thing that they will look at. As such, you have to touch up your home to ensure that buyers will take interest in purchasing your property. If you will continue to live in your property until someone buys it, you can start by having a spring cleaning. Get rid of things you do not need anymore by either selling, donating or giving them away. You may also choose to give the walls a new splash of colour, or even rearrange the furniture to make the house more elegant. In this day and age, more people are leaning towards the minimalist style, that "less is more", so getting rid of a few unwanted furniture will not hurt anyone.
However, if you do not have the time to give your house a makeover, or maybe the property you are looking to sell is merely an investment property, you can always engage in a home staging service. A home staging service is essentially a decorating service for your house to enhance the features of your home, making it appear more attractive. There are a wide range of home staging service packages, which range from doing up your living room, bedroom, study room and kitchen.
Take note that as you start snapping photos of your apartment, remove items such as family photos, framed certificates and memorabilia that pertains to you. The goal here is to appeal to potential buyers and make the house theirs as opposed to yours. You should also put away personal care items such as branded products, as it is not at all pleasing to the eye, and also ensure that no one is in the images, not your children nor your pets. Unless they come with the house as well, but mainly because not everyone can see themselves with children or animals living in their household. The goal is to create a space that allows everyone to imagine themselves living in, so make it appear as generic as possible.
List your property on various marketplace platform and market them for sale
The next course of action you should take is to put your property on the market. With the use of the trusty internet, you are now able to publicise the sale of your property very easily and conveniently. Property market platforms include PropertyGuru as well as Carousell. Also, you should try to put them up on various marketplace platforms, to widen the reach to your customer base. As you put up your home for sale, ensure that you have prepared all the necessary information, such as the size of the home, the description to appeal to potential buyers as well as the images of your beautifully decorated property. You should also include information such as nearby facilities, how many minutes walk to the nearest MRT station, if it is, as well as unique facilities within the development. You should also keep a lookout on updates and future developments to the area, which can be a more enhancing feature to purchasing the property. Once you have uploaded all the information, your house is ready for viewing by the public.
Allow viewings of your property
When potential buyers are able to experience the home firsthand, they are more likely to agree to purchasing the place. As such, you should allow for viewings of your property. Within your listing, you should include a mode of communication such as your mobile number or an email, so potential clients may book an appointment to view the house. Ensure that the house is ready once clients come to visit. Moreover, if you have a busy schedule, you may open the house to viewings by multiple clients within the same time slot. This hints to the clients that there is a vast interest in the purchase of the property, and in turn may enable them to act quickly in buying the property.
Negotiate on the price
More often than not, the clients will attempt to negotiate on the price of the house. As such, you will have to be prepared in your responses. If you have never been in a negotiation before, you should spend some time considering the prices you are willing to accept. If you have a difficult time in saying no to people, you should practise rejecting lowballers even though you want to have your property sold as fast as possible. It may seem tempting to accept a low offer due to little to no engagement on the purchase of your property, but politely reject them and have some patience as you wait for another buyer to contact you. Keep in mind that the clients will definitely contemplate over the price, and may need more time to ponder over it. It is, afterall a house they will be purchasing.
Engage a conveyancing lawyer
The act of conveyancing is the legal process of transferring a property from one owner to another, and as a seller, you will have to hire a conveyancing lawyer to oversee this process for you. The lawyer will engage with the lawyer of your buyer for the option to purchase (OTP) or sale and purchase agreement will begin. If you are selling a HDB flat, you may engage with HDB's lawyers or private lawyers. As for private properties, you will have to contact a private lawyer to settle the conveyancing process for you. They will prepare the OTP for you under your guidance. Keep in mind that HDB lawyers will require your presence at the meeting that settles the completion of the sale, so if you have a tight schedule you may wish to hire a private lawyer, who will settle it on your behalf.
Issue the Option to Purchase (OTP) and Secure Option Fee (1%)
The OTP will be issued to a potential buyer, and upon their receiving it, he or she must exercise it by the deadline, normally about 14 days, in order to enter into a contract for sale with you. To ensure that the buyer remains interested in the purchase of the property, you should secure an option fee which is essentially a payment in exchange for your OTP. The option fee is normally priced at 1% of the purchase price of the house. The Option to Purchase will contain terms on the sale and purchase of your property, such as confirming that the buyer has checked the property for physical defects, and as such will now bear those risks.
Wait for the buyer to exercise the Option to Purchase
On the buyer's end, they should exercise the option to purchase by returning the signed document to your lawyer along with the option fee before the deadline of 14 days. Once this process is completed, you will be officially selling your property. In the event that the buyer does not exercise the option to purchase, you are entitled to keep the option fee.
Pay stamp duty if you sell before occupying your condominium for 3 years
You will be liable to pay a Seller's Stamp Duty (SSD) which is equal to 4, 8 or 12% of the final selling price of your property if you sell your condominium within 3 years of ownership. Specifically, the SSD is at 12% if you sell within the first year of ownership, 8% within the second year, and 4% within the third year. As such, you should consider only selling your property after the 3-year mark. If you are looking to wait out the 3-year period, and you are not living there, perhaps you can consider renting the place out to earn some passive income on the side.
Complete the sale and prepare to move out
From here on out, your lawyer should be settling most of the paperwork and the transaction for you. Your role will simply be signing some papers to finalise the sale of your property. They will also inform you of the final sales date, and the day that you will hand over the keys to the new owner. You should also begin to prepare moving out as that date draws near. This means that you will have to begin packing your items and moving into a new place. Ensure that you make arrangements of your items and your new location as early as possible, so you have enough time to move the items and yourself out of your old property.
And there you have it, a simple 10-steps to follow if you wish to sell your property. The process may seem tedious, and the paperwork may be overwhelming, but so long as you follow these steps and engage with a conveyancing lawyer, the work of having to sell your property will not be as daunting as you may think. No matter what the reason may be to sell your private property, keep in mind that it is a fairly straightforward process that you will be able to perform yourself. But should you have any queries or you would like to find out more about selling your property, feel free to contact us. Let our team of professionals help in selling your condo in Singapore
Selling Your Private Property in Singapore?
Get your Free Property Analysis Report and Seller packages.
Selling Your Property in Singapore?
WhatsApp your Enquiry Directly. Professional Property Seller Services with Low Commission rates.