Why invest in a property in Singapore?
Given the compelling reasons that make Singapore a lucrative choice for property investment, it is no surprise that investors around the world have plans to deploy up to $75 billion across residential investment sectors over the next five years, equivalent to a doubling of their current committed capital in a report published by real estate consultancy company Knight Frank in 2022.
Firstly, Singapore's property market is established upon stable political governance, sound economic policies and Singapore's indisputable position as a commercial trading hub. The local property market is also closely monitored by the Singapore government and initiatives to prevent the formation of a property bubble are well-established. Therefore, foreign investors are assured that the value of their investment in local property will be maintained for years to come.
Secondly, Singapore's pro-business and low-tax environment has helped put Singapore on the radar for property investment amongst foreigners. Despite the introduction of the Additional Buyer's Stamp Duty, the cost will be partially offset by the non-existence of capital gains and inheritance taxes. Additionally, when selling property, the only chargeable tax is the Seller's Stamp Duty (SSD), which is not only applicable within the first three years but is also relatively low.
Thirdly, the strength of the Singapore dollar can help shield part of one's portfolio from political instability, thereby offering investors an opportunity for diversification.
Add a header to begin generating the table of contents
Who is considered a foreign person?
A foreign person refers to any person who is neither:
a Singapore citizen,
a Singapore company,
a Singapore limited liability partnership nor
a Singapore society.
Understanding the Different property types Available for Sale in Singapore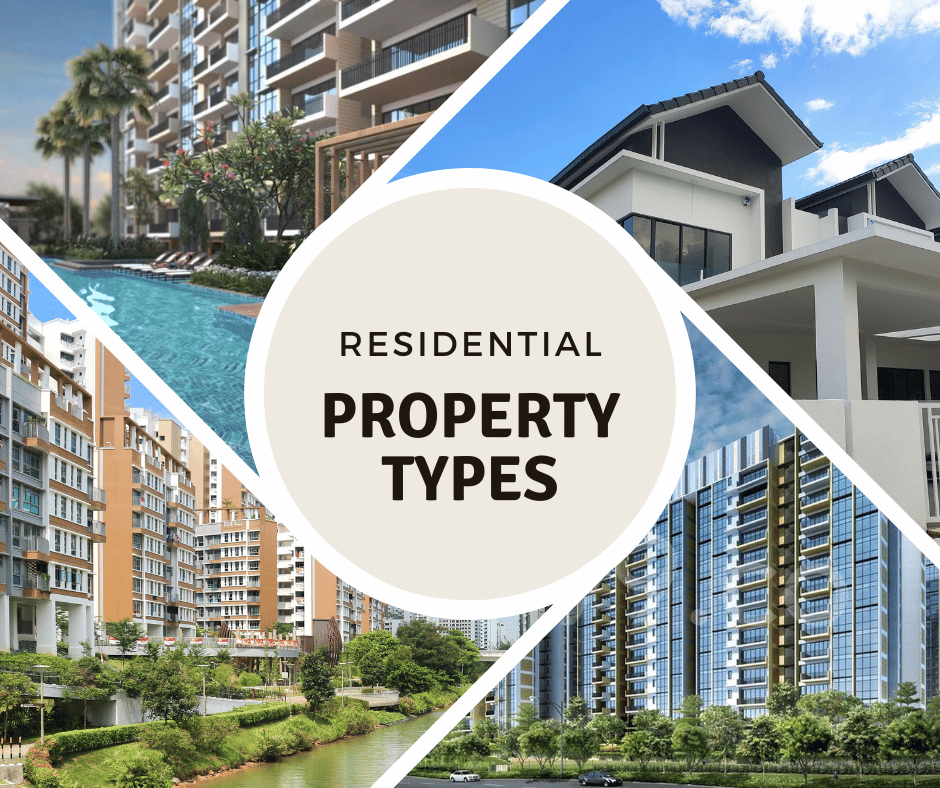 Public HDB Flats
Public Housing Development Board (Public HDB) flats, are built with the intention of making affordable housing available to the ordinary Singaporean. Therefore, they are heavily subsidized and regulated by the government and buyers can use their CPF grants to further lessen the burden of making a purchase. However, Public HDB flats come with several notable eligibility requirements that must be met. Families who wish to buy Public HDB flats must:
Have one (1) listed occupant who is a Singapore Citizen or Permanent Resident, and
Comply with the Minimum Occupation Period (MOP) of five (5) years.
Executive condominiums (ECs)
Compared to private condominiums, Executive condominiums (ECs) in Singapore are more attractively priced and come with comparable facilities and designs. Known as the "sandwich flat," an EC is a hybrid of public and private housing catered to middle-income Singaporeans who don't qualify for HDB BTO flats due to the income ceiling cap but still consider private condos too expensive. The HDB Build-to-Order (BTO) income ceiling in 2022 is $14k for couples and $7K for singles. To quality for a new EC, your monthly household income must not exceed $16K. Several rules applies for Foreigners and Singapore PR to purchase ECs.
Private condominiums
Private condominiums and apartments typically have many amenities, such as gated security, gyms, swimming pools and sports facilities. They typically come in either freehold or 99-year leasehold tenures. Private condos and apartments are the least expensive among private housing compared to landed properties. Private condominiums are open for Foreigners and Singapore PR to purchase.
Landed Property
The majority of Singaporeans consider landed properties the housing equivalent of reaching the top rungs of society's social ladder. While incredibly high maintenance, these properties offer spacious living quarters and unparalleled privacy.
What types of properties can foreigners buy?
Even though you're a Singaporean permanent resident, there are still rules and regulations regarding what kinds of property you may or may not purchase.
Singapore PRs may be able to apply for citizenship if they meet certain criteria and then buy property in Singapore.
Under the Residential Property Act, foreign nationals are permitted to own residential property in Singapore. However, there are certain restrictions on the type of property they may own.
List of Properties Singapore PRs are eligible to Purchase:
Resale HDBs – only with another Singapore PR or SG Citizen.
Resale ECs – after reaching 5-year (Minimum Occupancy Period) MOP
Privatised ECs – ECs that are more than 10 years old.
Private Condominiums
Landed properties in Sentosa Cove – requires fast-track approval from Singapore Landed Authority
Landed properties – requires special permission from Singapore Landed Authority
List of Properties non-Singapore PRs are eligible to Purchase:
Privatised Executive Condominiums (ECs) – ECs that are more than 10 years old.
Private Condominiums
Strata-Landed Homes
Landed properties in Sentosa Cove – requires fast-track approval from Singapore Landed Authority
Landed properties – requires special permission from Singapore Landed Authority
Shophouses – must be commercial titled, and not from HDB
What property foreigners can buy in Singapore public housing market?
Public housing is managed by the (Housing and Development Board) HDB. Within the public housing sector, there are certain rules and regulations to consider when purchasing homes:
Is the individual a Singaporean PR or not?
Will the person who wants to buy a house intend on doing so alone, or together with someone else?
For a joined purchase, what are the residential status of each foreigner?
For foreigners buying public housing as a single buyer
Non-Singapore PR buyers alone cannot purchase HDB flats. However, they may be able to buy private executive condos (EC) above ten years and older.
ECs are developed by private developers who then sell them to the public. They offer the same facilities and services as regular condos but at lower prices. However, because they are not fully privatized, they are subject to HDB rules, such as the five-year minimum occupancy period.
Singapore PR buying public housing alone cannot buy public Housing and Development Board (HDB) homes. However, Singapore PR can purchase ECs which have attained their five-year Minimum Occupancy Period (MOP).
Minimum Occupancy Period (MOP)
The Minimum Occupancy Period (MOP) was implemented by the Housing Development Board (HDB) on both Executive Condominiums (ECs) and public housing flats to discourage speculators from flipping their properties and taking profits immediately after obtaining them. This scheme keeps prices for both housing types relatively low, preventing profiteering in the market.
For foreigners buying public housing as a joint purchase
More relaxed rules exist for couples or families who plan to buy properties together in Singapore. These measures don't just affect Singaporean couples or families; they also extend to Singapore PR families.
Both property buyers are Non-Singapore PR: Only allowed to purchase Executive Condominium (EC) units over ten years old.
1 Singapore PR and 1 Non-Singapore PR: Able to purchase an Executive Condominium (EC) that has met the 5-year Minimum Occupancy Period (MOP).
Both property buyers are Singapore PR: Both parties must have held their v status for more than three years before they are allowed to purchase resale HDB flats. For more information refer to HDB Couples and Family site. 
What properties can foreigners buy in the private housing market?
Foreigners who reside in Singapore (Singapore PR or Non-Singapore PR) may purchase private housing under tighter restrictions than locals.
For landed properties, there are some restrictions placed in order to regulate Singapore property markets.
A foreign person who wishes to purchase a landed residential property must obtain approval under the Residential Property Act from the Land Dealings Approval Unit of the Singapore Land Authority
All application are assessed on a case-to-case basis, several considerations taken into account for the assessment includes the following:
Singapore PR status for at least 5 years
Your contribution to Singapore must be exceptional. Some consideration factors (not limited to) includes your taxable earnings in Singapore.
Foreign investors are also limited to buying residential property that doesn't exceed 15,000 square feet and isn't located within a good class bungalow area. For those looking for residential property within the good class bungalow area, more stringent criteria's applies for assessment.
The criteria for purchasing Sentosa Cove properties are less strict than buying a good class bungalow.
Use the land solely for your own purposes and that of your family as a residence and not for any other purposes.
The property should not exceed 1,800 square meters.
Have any questions about buying Property in Singapore
Get your questions answered over Whatsapp by our Licensed Real Estate Consultant now.
Find New Launch Condominium for Sale in Singapore
Get Direct Developer Prices & Discount on New Condominiums
Property which a foreigner requires to seek approval to purchase?
Generally, each foreign applicant will be assessed on a case-by-case basis, taking into consideration, including but not limited to, whether the foreign applicant has been a permanent resident of Singapore for at least five years and whether the foreign applicant has made exceptional economic contribution to Singapore. Economic contribution is appraised through the consideration of the foreign applicant's employment income and assessable tax in Singapore.
The following properties require approval to purchase:
Vacant residential land;
Terrace house;
Semi-detached house;
Bungalow/detached house;
Strata landed house which is not within an approved condominium development under the Planning Act (eg. townhouse or cluster house);
Shophouse (for non-commercial use);
Association premises;
Place of worship; and
Worker's dormitory/serviced apartments/boarding house (not registered under the provisions of the Hotels Act).
Property for which a foreigner can purchase without approval?
However, certain properties do not require approval to purchase. They include:
Condominium unit;
Flat unit;
Strata landed house in an approved condominium development;
A leasehold estate in a landed residential property for a term not exceeding 7 years, including any further term which may be granted by way of an option for renewal;
Commercial-use shophouse;
Industrial and commercial properties; Hotel (registered under the provisions of the Hotels Act); and
Executive condominium unit, HDB flat and HDB shophouse.
Stamp duty for foreigners buying property in Singapore
Buyer Stamp Duty (BSD) a Requirement for all Property Buyers

(Reference: Image table courtesy of IRAS Buyer Stamp Duty)
The Buyer Stamp Duty (BSD) is a tax levied on all property buyers regardless of nationality who purchase any property and it is dependent on the purchase price or market value of the property (the 'Base'). Generally, the more expensive the purchase price or market value of the property, the higher the BSD Rate.
Additional Buyer Stamp Duty (ABSD) a Requirement for foreigners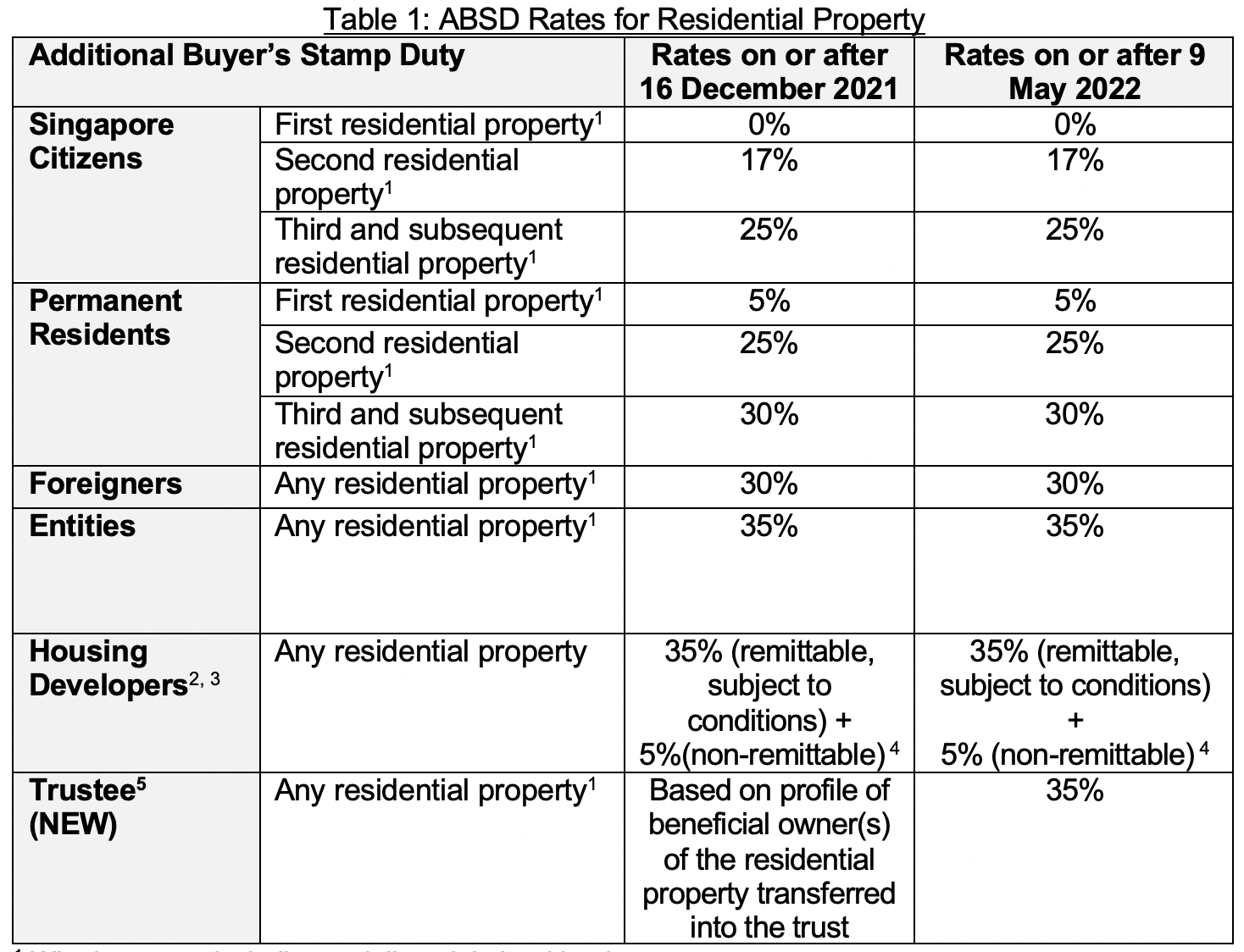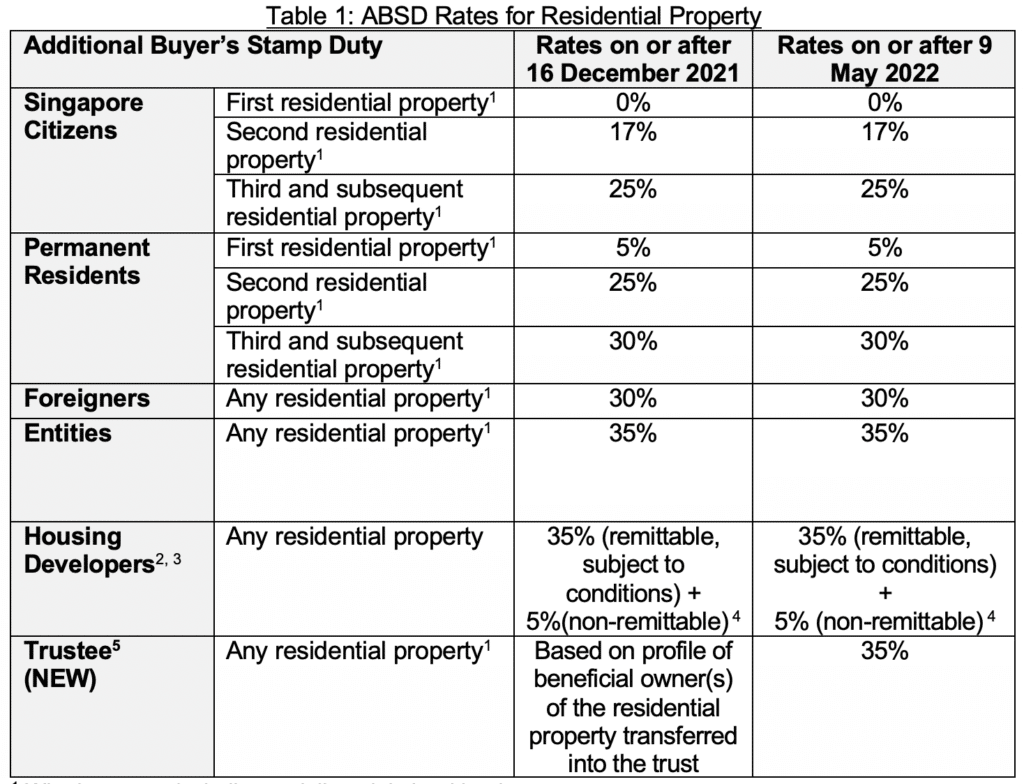 (Reference: Image table courtesy of MOF press release)
The Additional Buyer Stamp Duty (ABSD) is a tax levied on the purchase of residential property and is in addition to the BSD and is only applicable to the following buyers:
A Singapore citizen who already has ownership of a residential property and wishes to acquire another (2nd property);
A Permanent Resident; or
A foreigner.
Essentially, the ABSD affects everyone except Singapore Citizens who are buying their first property.
Yet, if i) you are a foreigner or Permanent Resident married to a Singaporean Citizen and ii) do not own any residential property, the ABSD will not be chargeable. It can also be refunded if you are switching residential properties as a married couple. However, the first ABSD-paid property must be sold within six (6) months after the i) date of purchase of the second property (if completed); or ii) Temporary Occupation Permit (whichever is earlier).
Foreigners Eligible for ABSD Remission under Free Trade Agreements (FTAs)
As per Singapore Inland Revenue Authority of Singapore (IRAS), certain foreigners are eligible for ABSD Remission under Free Trade Agreements (FTAs):
Nationals of the United States of America, Iceland, Liechtenstein, Norway and Switzerland will be granted the same tax treatment as Singapore Citizens due to the Free Trade Agreements signed with the United states of America and the European Free Trade Association. Therefore, the ABSD will be not be chargeable for listed nationalities on their first residential purchase and their second, third & subsequent residential purchases will be taxable at 12% and 15% respectively.
Except for the Sentosa Cove waterfront Bungalows, the ABSD Remission only applies to Non-landed Private Housing.
Can a foreigner apply for a Home Loan in Singapore?
Foreigners can apply for a home loan in Singapore.
Regardless of the institution that provides the loan, foreigners must possess an excellent credit standing to be awarded a loan. Onshore foreigners must have a good credit score as a bad score may lead to unnecessary delays, while offshore foreigners must be able to show proof of income and net worth. Therefore, a preparation of the latest certified true copy of your proof of income and notice of assessment is of the essence. For self-employed individuals, proof of earning and net worth statement must be provided. In addition, a passport copy, identification card and the property's Option to Purchase or Sales and Purchased Agreement should be prepared as well.
Other factors to consider when applying for a loan is the In-Principal Approval and the Loan-to-Value (LTV) Ratio.
In-Principal Approval Amount
The In-Principal Approval states the maximum amount and tenure of the loan and is provided by the bank. Foreigners can enjoy a tenure of up to 35 years for freehold properties and 75 years for leasehold properties.
Loan-to-Value (LTV) Ratio
The Loan-to-Value (LTV) Ratio is the amount of mortgage loan you can apply for and it is dependent on the property's market value. Without an existing mortgage loan, it is possible to take up a loan of almost 75% of the property's purchase price. However, if a foreigner has an existing mortgage loan(s) the amount decreases to 45% for 2 existing loans and 35% for 3 or more existing loans.
Buying a Property to Invest in Singapore? 4 Reasons for Foreigners to buy a new launch condominium in Singapore for investment
Newness
New launches are pleasing to the eye as both the interior and the façade of new launches are guaranteed to look spanking new. More importantly, new launches are usually an "upgrade" of older condos as they are equipped with avant-garde features not found previously. For instance, "smart" condos that allow its residents to control various elements with the touch of a button on their smartphones are slowly gaining traction. Facilities sparked by modern living that were also previously available, such as concierge services, are also starting to manifest themselves in new ones.
The attractive aesthetics and availability of newer and more advanced features found in new launch condos contribute to a better resale potential and rentability of the property in the long-run.
Lower Maintenance Costs
Wear and tear drive up the cost of property maintenance, both inside the unit and for the communal areas.
Pesky problems such as rust, mold, faulty plumbing and yellowing walls plaque the units of older resale condos. On the other hand, with a one-year defects-free period, developers are liable to correct any defects that may arise within a year from the purchase of the condo.
Older condos do not only incur high maintenance costs, but these costs may increase while providing fewer tangible returns. In other words, it may cost the same to maintain a brand-new condo than an older condo which has facilities that are in poorer condition, thereby making it more worthwhile to invest in a new launch condo.
Early Bird Discounts
Whether in the form of a direct price discount, or the absorption of stamp duties, most new launch condo developers have attractive early bird discounts to offer. While underpriced resale units may have great potential, such units are not always easily available.
Wider Range of Unit Choices
Unlike resale condos, the purchase of a new condo means that you do not have to settle for leftover units that are on sale. You get to have the first pick and having the ability to do so ensures that you are able to choose a unit that better suits your needs and your future tenants'. This will make renting out your unit a breeze when the time comes.
Buying a Property to Live in Singapore? Consider the following key places where Expats live in Singapore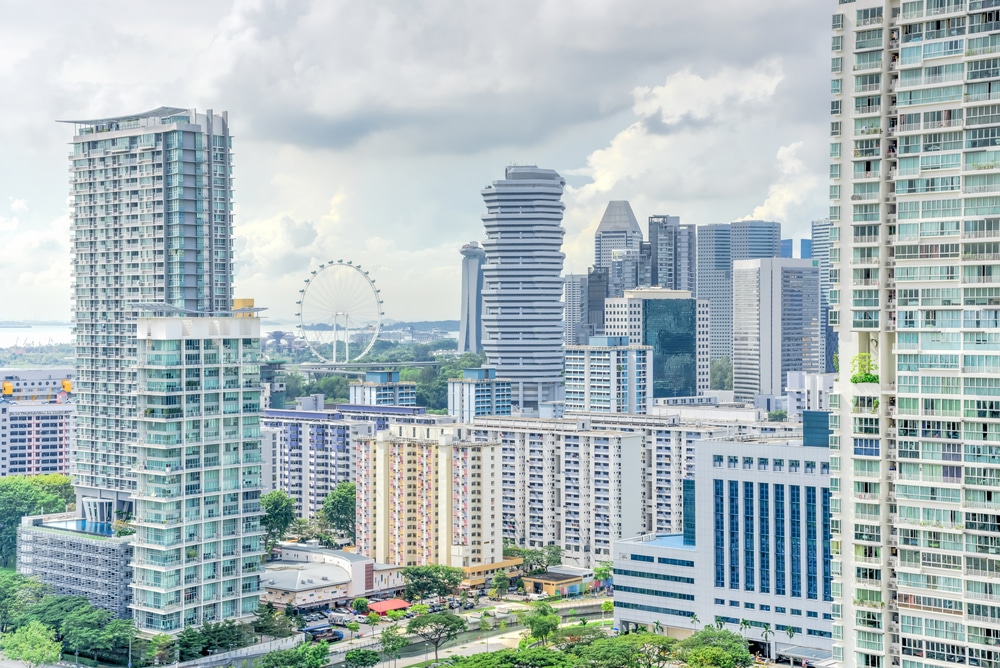 Given Singapore's reputation for having the lowest crime rates in the world, praiseworthy cleanliness and efficiency, it is no wonder that Singapore is ranked one of the best countries for expats to live in. If you are looking to make Singapore your home, you may consider the following areas:
Orchard
Orchard Road is always buzzing with activity and is literally the heart of Singapore. From upscale shopping centers to restaurants that promise a gastronomic dining experience, everything that you ever need is right at your doorstep. The centrality of the location also provides access to excellent public transport links and places you in close proximity to the Central Island Expressway and Central Business District. Living in the area may come with a hefty price tag but you can be assured that the advantages of doing so makes everything worthwhile.
Tanglin
If you prefer to escape from the hustle and bustle of city life, Tanglin Road's the area for you. Being an older and more established area, the properties in the area range from spacious houses with huge garden fronts to low rise condominiums. While bringing nature closer to you, the area also provides convenient access to the central areas of Singapore, such as Orchard Road. Additionally, Dempsey Hill, a stone's throw away from Tanglin Road, houses art galleries, restaurants and cafes for you to unwind and relax.
Holland Village
Holland Village's laid-back bohemian vibe and diverse dining selection makes it a classic favorite amongst expats. Enjoy a variety of delicious local fare in the large hawker centre that is located in the middle of Holland Village or step out and head to the nearby Jalan Merah Sega for more shopping and dining options. The Circle Line that is right at your doorstep takes you to various parts of Singapore in the shortest time possible.
Bukit Timah
The benefits of living in this area include being in close proximity to several international schools and social clubs such as the Japanese Association, British Club and the Bukit Timah Saddle Club. You may choose to live in one of the many properties that Sixth Avenue has to offer, from family houses with gardens to luxe condominiums.
Robertson Quay
Robertson Quay is an obvious choice amongst younger expats who seek to enjoy the vibrant nightlife offered by the row of restaurants and bars facing the Singapore River. Robertson Quay houses several ritzy new condominiums that offer splendid views of the River. On the other side of Robertson Quay sits UE Square, which is a huge residential, commercial and retail complex.
Sentosa
Sentosa Island houses some of the most luxurious sea-facing homes in Singapore. Residents also get to enjoy a plethora of recreational activities and attractions or bask in the sun at one of the many beaches without having to leave the island. At the gateway of Sentosa stands Singapore's largest shopping malls, Vivocity, and it offers a dizzying array of retail and dining options. Therefore, many expats who desire an extravagant and unique way of living have made Sentosa Island their home.
Serangoon
Serangoon is experiencing a surge in popularity amongst expats for its wallet-friendly living options, excellent connectivity to other parts of Singapore and easy access to various international schools. Serangoon Gardens, a five-minute drive away from Serangoon, is known for its eateries, buzzing nightlife and Chomp Chomp, a hawker centre that offers Singapore's most representative local cuisine.
Summary
Regardless of whether you are a new landlord or a seasoned investor, a good business acumen and judgement is necessary in evaluating a property before its purchase. However, the mind-boggling amount of information on the internet may be daunting, especially if you're a foreigner making your first property purchase in the Lion City. Under the guidance of a real-estate professional who has a wealth of experience and in-depth knowledge of the local property market, you can make a sound decision today.
At Prop.sg, your interests are our number one priority. Let us help you make your purchase decision by getting in touch with us – we are more than happy to be at your service and to provide you with any property information you require to make a better decision as well as any Singapore new launch condo.
FAQ – Foreigner Property Purchase:
Can a foreigner buy a landed property in Singapore?
Foreigners are not allowed to buy landed property in Singapore without approval from the Land Dealings Approval Unit (LDAU). Sentosa Cove is an exception to this rule, however, and foreigners can buy properties there.
Can foreigners own HDB in Singapore?
Foreigners may not purchase HDB flats, but they can buy Executive Condominiums (ECs) that are at least 10 years old.
Can foreigner buy private condo in Singapore?
Under the Residential Property Act (Chapter 274) of the Singapore Law, foreigners are eligible to buy a condominium in Singapore.
Can foreigner buy freehold condo in Singapore?
Yes, foreigners are allowed to buy freehold condos.
Can foreigners invest in property in Singapore?
Foreigners are available to purchase private condominiums in Singapore. For Landed Property: The Land Dealings Approval Unit must approve any purchase of landed property by foreigners. Alternatively, foreigners may take up a leasehold estate in a landed residential property for a term not exceeding seven years, including any further terms which may be granted by way of an option for renewal.
Have any questions about buying Property in Singapore
Get your questions answered over Whatsapp by our Licensed Real Estate Consultant now.
Find New Launch Condominium for Sale in Singapore
Get Direct Developer Prices & Discount on New Condominiums