Last Updated on October 18, 2022 by Editorial Team
Working out your finances to understand your budget
The amount money that you can potentially borrow depends on your creditworthiness and the Loan-To-Value limit imposed by the Monetary Authority of Singapore. You can expect to obtain up to 75% of the property price on your first housing loan but this is subjected to the loan tenure. Additionally, there is the Total Debt Servicing Ratio (TDSR) to consider as it allows you to utilize up to 60% of your salary on debt repayment. However, if you are purchasing an Executive Condominium, the TDSR will be limited to up to 30% of your salary.
Moreover, there is a minimum cash down payment that one has to take note of. This cannot be made from either your own funds or from your CPF account, so you have to ensure that you have sufficient cash.
With reference to the financing that you are able to obtain, your real estate agent will be better able to narrow down properties that will best meet your budget.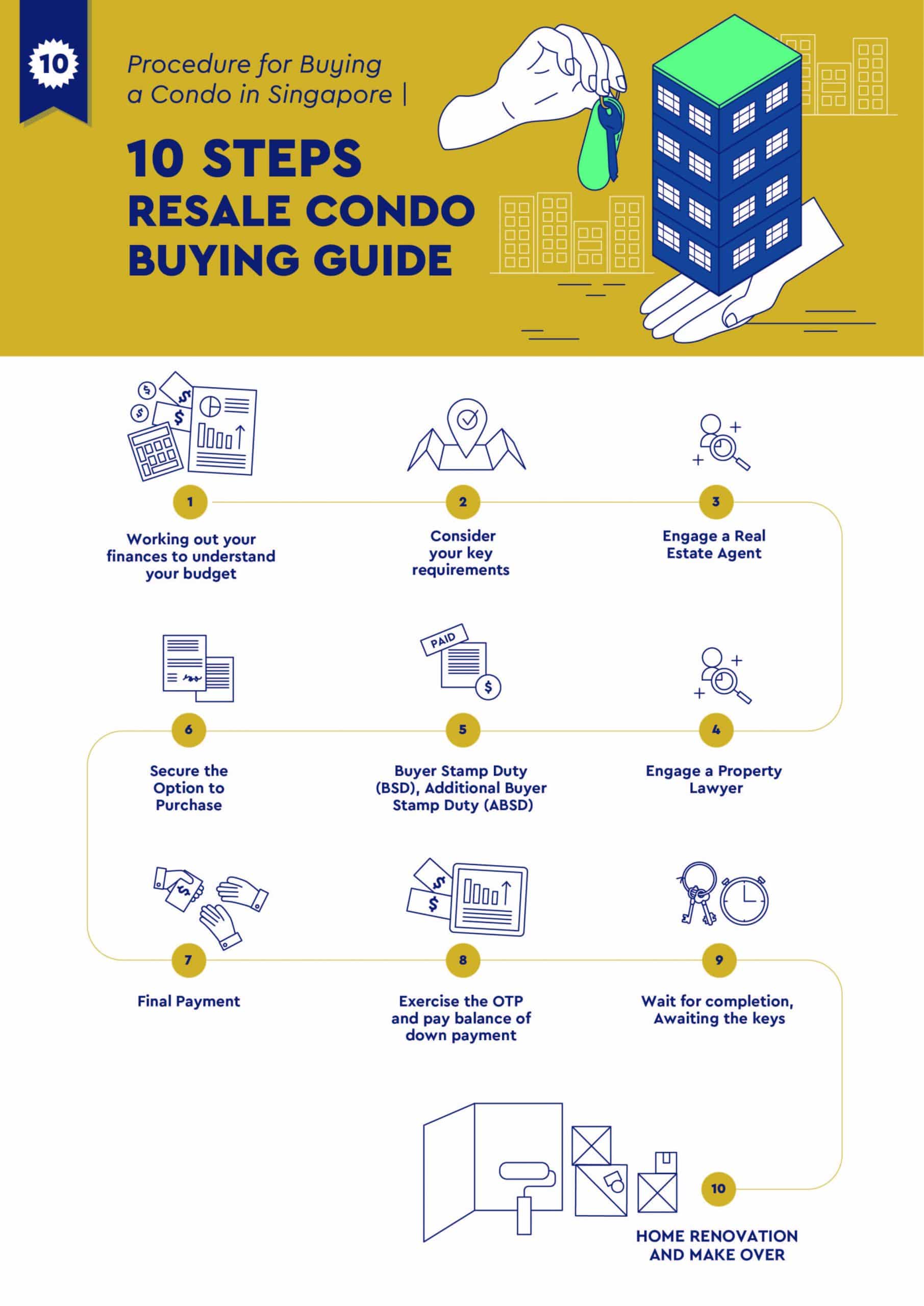 Consider your key requirements
Attaining the home of your dreams begins with knowing what you want. All home buyers yearn for property that is able to reap generous returns. To determine the potential of a property, it is imperative for home buyers to do basic research and consider the following factors:
Freehold or Leasehold Condo
Depending on one's risk appetite, some buyers are inclined towards freehold developments because such property tends to appreciate, and their tenure offers security to buyers. In contrast, some buyers may prefer leasehold developments for their higher capital appreciation and thus, higher yields.
Upcoming Regions and Availability of New Projects in Those Regions
Developments that are situated in areas designated for major redevelopment tend to provide better returns.
Proximity to MRT Stations
Developments that are in close proximity to MRT station(s) are able to fetch better resale values due to their potential to slash commute times for the residents.
Possible School Choices Relocation
Singapore's distance-based priority allocation rule favors developments that are within a 2km radius from prestigious schools. To reap favorable gains from your potential property, it is thus wise to consider the location to which the good schools may possibly relocate.
Other requirements may include your budget and a convenient timeline for you to move in.
Engage a Real Estate Agent
Now that you have your requirements in mind, you will need assistance in narrowing down your options from a myriad of available ones – this is when you engage a real estate agent. A real estate agent will work with you to comprehend your requirements, subsequently creating a list of properties for your consideration. Subsequently, you may further narrow down the options on that list and start viewing the properties of your choice. Throughout the process, your agent will provide advice on aspects such as market rates and guide you along for a seamless transaction.
However, be sure to run a check on the Public Register (maintained by the Council of Estate) to ensure that you are engaging an authorized professional.
Engage a Property Lawyer
Your team of property professionals is not complete without a property lawyer. A property lawyer will assist in taking you through the complex financing and legal documentation process.
Running through contractual terms and conditions is one of the fundamental tasks of a property lawyer. Additionally, he also has to run a title search to check that the seller is the actual owner of the property. Next, he will have to send out legal requisitions to at least nine government agencies to ensure that there will not be any problems with your purchase, even in the future. After which, he will receive payment from you and exercise the Option-to-Purchase in a timely fashion.
A property agent also plays a crucial role in the preparation of your financing and i) making progress payments (for incomplete property) or ii) determining and making the right amount of payment needed in order to change hands (for completed property).
Buyer Stamp Duty (BSD), Additional Buyer Stamp Duty (ABSD)
The Buyer Stamp Duty (BSD) is a tax levied on all property buyers regardless of nationality who purchase any property and it is dependent on the purchase price or market value of the property. (the 'Base'). Generally, the more expensive the purchase price or market value of the property, the higher the BSD Rate.
The BSD can be calculated as follows:
To avoid or reduce your ABSD liability, your lawyer may assist you in timing the sale of your existing property with the purchase of the new property.
Secure the Option to Purchase (OTP)
After determining the BSD and ABSD taxes that are payable, you may proceed to secure an OTP. Securing an OTP involves the payment of the first option fee (1% of the purchase price of the property). The payment of this option fee prevents the seller from selling that property for a specific duration (usually two weeks).
Afterwards, a second option fee (4% of the purchase price of the property) will be incurred (Step 8).
Final Payment
Finally, you will have to pay your real estate agent and your property lawyer.
If you are purchasing a resale unit, it is customary for the seller to pay his own agent, who will then pay your agent. If you are purchasing a new condo unit, your agent will receive his payment from the developer.
Payment to your lawyer does not only consist of his legal fees; payment will also have to be made to the Singapore Land Authority and Inland Revenue Authority of Singapore.
Exercise the OTP and pay balance of down payment
Within two weeks of securing your OTP (Step 6), you will have exercise it and pay the first option fee (1%). Your property lawyer will assist you with this and ensure that the OTP is exercised before the deadline.
Next, you have to obtain your financing and pay the second option fee (4%). Once this payment has been made, you can then make the down payment of 15% or 45% on your first or second property respectively.
Payments for both option fees must be made in cash, while the down payment can be paid via a combination of cash and CPF.
Wait for completion, Awaiting the keys
Once all the relevant paperwork and payments have been processed, you can officially look forward to collecting the keys to your new home. The purchase of property that is approaching its Temporary Occupation Permit (TOP) allows for a shorter wait.
Home Renovation and Make Over
Let your imagination run wild by borrowing the creative juices of interior designers. When selecting an interior designer to help you with transforming your vision into a reality, you should weigh the cost involved with the designer's track record to reduce the likelihood of having to incur repair costs in the future.
Once the house has been designed and furnished to your heart's desire, you may begin moving into your new home. Creating a list of all the belongings you would like to take with you and packing them in an orderly fashion will guarantee that you will have an easier time unpacking. You may engage professional movers, family or even close friends to assist you in moving bulkier items.
Summary
Purchasing a condo may seem daunting on first glance but it does not necessarily have to be if you follow the steps in this simple guide and engage a professional, reliable team.
If you're looking for to buy a condo in Singapore with professional guidance at every step of the way of your property purchase, look no further because Prop.sg is the team for you and do you know what is the best part of it all? The resale condo buyer services provided by us are completely free of charge (i.e. no commission) to you as a buyer.